Our jeep tours run through the Negev Friendly Desert, around Mitzpe Ramon – to the Ramon Crater, the ancient Spice Route or to the Zin-Valley springs near Sde-Boker.
We offer Deep Desert experiences of:
– 2 hours
– 4 hours
– Full day tours
– Sunrise/Sunset tours
– Jeep tour and Bedouin hospitality
– Jeep tour and wine tasting in a desert vineyard
Interested in a longer adventure?
We'll gladly take you on a several day jeep safari through these desert landscapes – camping out or returning to your urban accommodation.
The Negev Desert comprises 60% of Israel and is surprisingly diverse – each area with its own, rare beauty.
Where would you like to start???
Negev Desert Jeep Tours
Ramon Crater jeep tour 2//4 hours
On our Ramon Crater jeep tour – starting from Mitzpe Ramon, we'll ride through the biggest crater ("Makhtesh") of its kind in the world, while we go some 220 million years back in time to the time of the dinosaurs. We'll learn about the formation of this phenomena, search for fossils, taste edible desert plants, trace wild animal tracks and listen to the roaring hum of silence. This tour can end at a nearby village for real Bedouin hospitality.
Zin Valley springs tour – 4 hours
The jeep tour of the Zin Valley, near Sde Boker, takes us through surreal yellow-white cliffs and hills, an oasis with a lush green Poplar forest (!) and to top it all- a spring with a 30 ft. deep natural pool good for swimming. While you cool in the water- we'll brew the coffee and cut open the watermelon…
Jeep tour of the Spice Route – full day
Over two thousand years ago a great nation of nomads, called the Nabateans, managed to find their way through the rough desert wilderness. The last part of their journey crossed the Israeli Negev Desert of today. While they develop incredible techniques for survival, among them – the digging of hundreds of cisterns, these people traveled over 1200 miles by foot with huge camel caravans. Where did they start the journey and where were they headed? What were they carrying that justified this unbelievable effort? Where are they today?? On our tour we'll try to find answers to these questions as we follow the Nabateans in their footsteps. (Mitzpe ramon jeep tours)
Around the Ramon tour – full day
This day tour encircles nearly 360° of the Ramon Crater and is a true desert safari encompassing some of the best views in the Negev. Leaving from Mitzpe Ramon, we'll first start with a short jeep tour of the Ramon Crater from the inside. Later on we'll continue to the Nekarot planes, stop at the ancient Oded Wells to draw the freshest water you've ever tasted and stop for a lunch break in the shade of an old Pistacia tree in the Negev highlands. By now we'd have probably spotted some gazelle and a few onagars (wild asses). Our next stop will be at the tip of the crater – just where the two rims meet, for another perfect view, just as the colors of the day become softer. From there we'll start our way back to Mitzpe Ramon while the sun sets behind us.
Desert & Wine – Ramon Crater and vineyard tour – 4 hours
Join us on a unique 4 hour experience blending a rugged jeep tour through the Ramon Crater with fine wine tasting in a boutique desert vineyard, including a personal meeting and talk with its winegrower and visionary.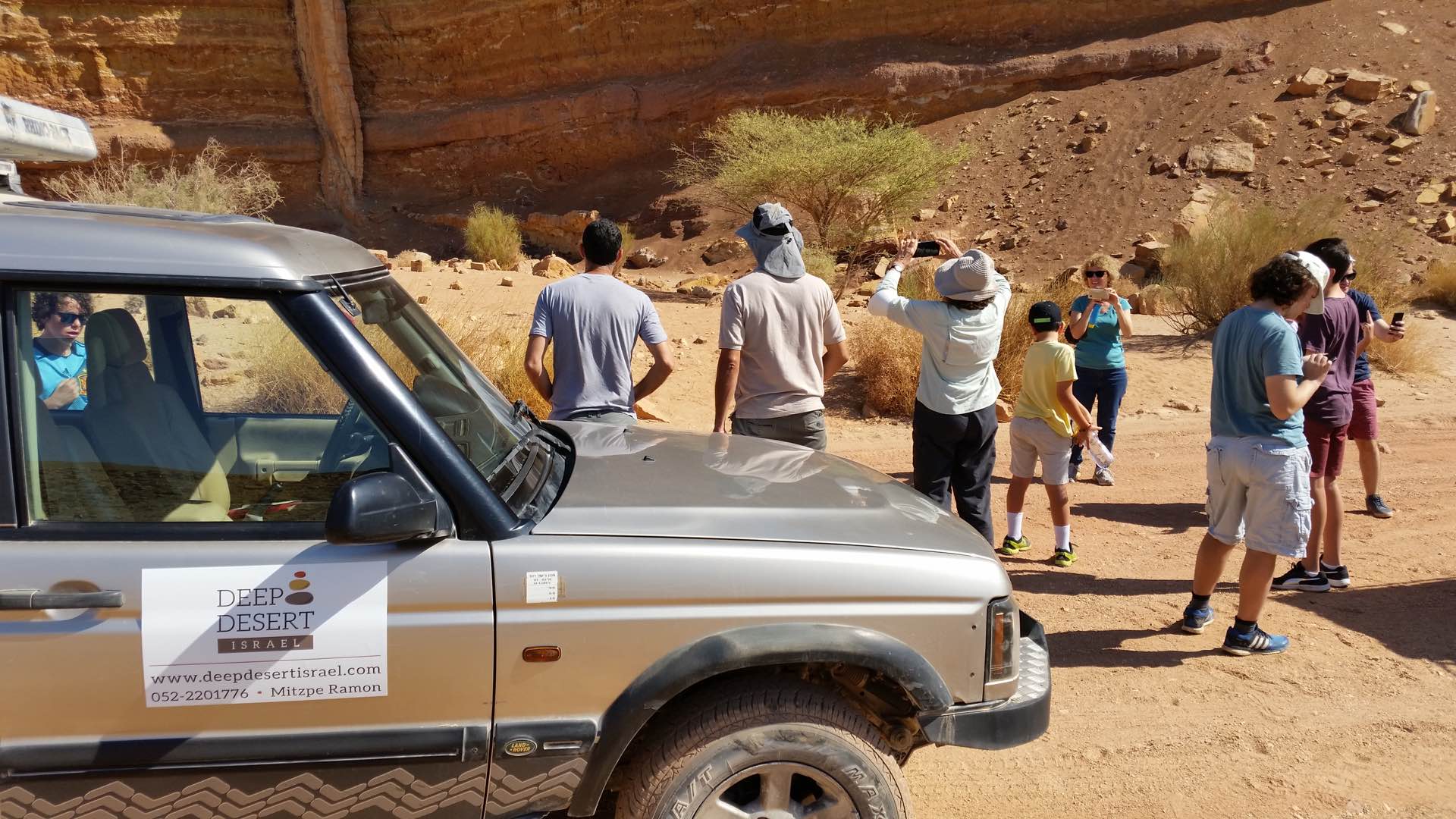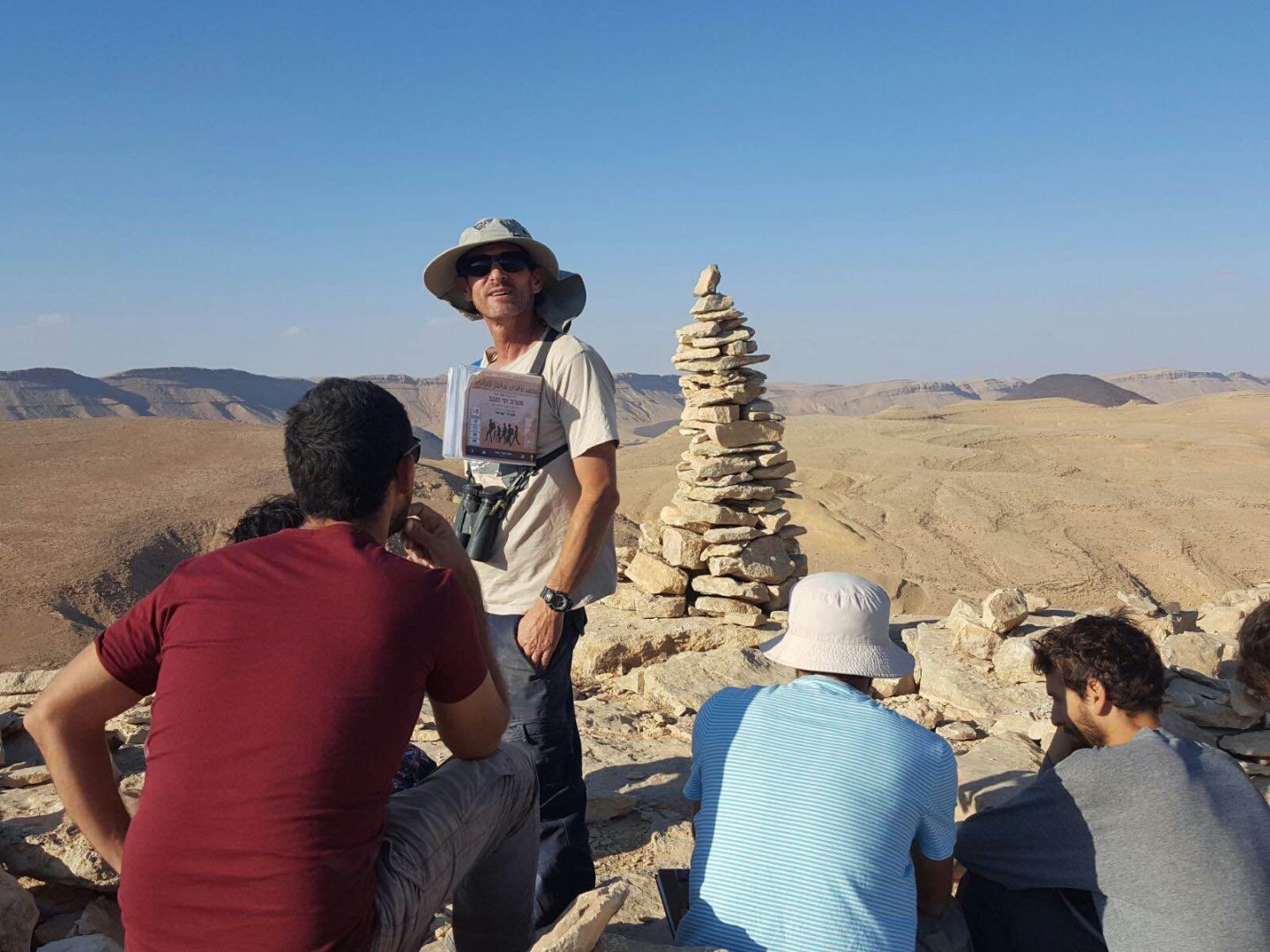 Please note that we only offer private tours. For "per person" rate daily group tours, check out the 4x4Desert service